Home issues, electronic malfunctions, or transportation breakdowns don't come to our door knocking. They all happen suddenly. Now, such situations are out of our control. But, we can be better prepared for such problems if we have access to the best handyman apps on our devices.
Plumbing, wiring, remodeling, cleaning, carpentry, and many others are the leading services that can be easily maintained using an interactive mobile app
We have compiled the best and most preferable handyman apps. The apps are top-rated and recommended by experts and users. You can use them to contact the right person for a specific service from your Android devices or iOS devices. So, let's get started.
13 Best On-Demand Handyman Apps You Should Use
For an entrepreneur, on-demand businesses are nowadays booming globally, and handyman apps are not an exception. We have come up with a list of the best handyman mobile apps to enhance the handyman business's performance.
1. FieldCamp
FieldCamp is one of the effective field service management software that makes your daily operations easier and faster. FieldCamp has made it effortless to assign jobs to your field staff by giving all job details to them from one place.
FieldCamp helps you to keep track of assigned jobs to field service technicians and track overall updates. The technicians can clock in and out on the jobs, and you can get every update automatically.
One of the significant features of FieldCamp is its easy job scheduling functionality. For instance, you want to assign a handyman for house cleaning, you can click on the button, and in a few clicks, your work is done.
Using this software, businesses can save up to 95% of their field service business time in their day-to-day operations. Let's find out some exclusive features of FieldCamp
Top Features:
Real-time field staff tracking
Job management
Inventory management
Efficient reporting
Generate invoice
Schedule and dispatching
Pricing:
Free 14-days trial
Start: $29/month (for 1 user)
Grow: $49/month (for up to 10 users)
Manage: $99/month (for up to 25 users)
A Field Service Management Software That Helps You To
Save up to 95% of your time Automate 90% of your daily operations Generate and track reports in a few clicks
Start Your Free Trial
No credit card details required
2. Handy
If there is a list of handyman apps, you will find a Handy app in it. But what's so special about it? It is user-friendly features and enhanced customer support are the primary factor behind the hype.
One of the significant features of the Handy app is that it allows you to book appointments anytime with its 24/7 customer service. Thus, you can make an appointment whenever it is available in the week.
You can use it free but there are cancellation charges for canceling tasks, background checks, and rescheduling jobs.
Top Features:
Customize booking
24/7 booking availability
Read & compare review
Flexible planning
Easy payment process
Pricing:
3. Porch
Porch is a globally used handyman mobile app to deal with home service, household repairs, and even handymen can easily offer their services here as well.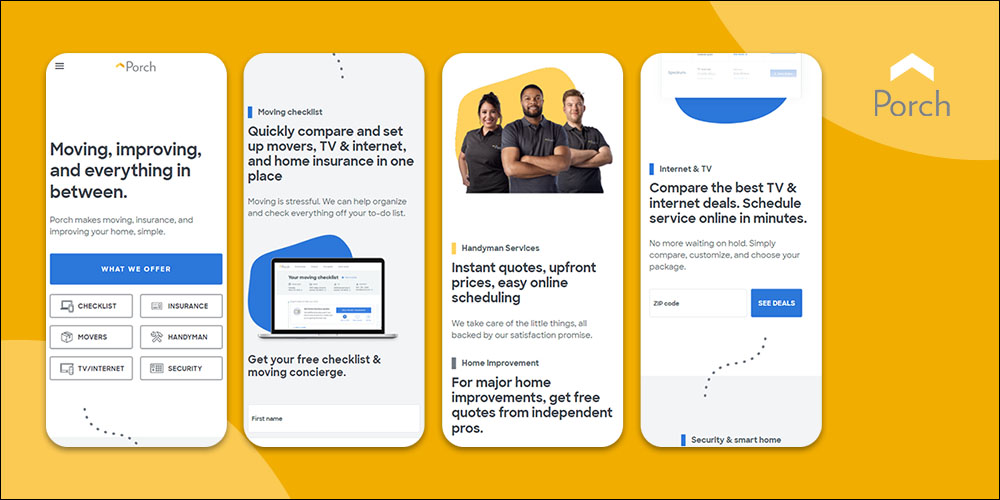 The porch provides a simple and intuitive design that makes it easy for your customers to find and book a contractor. Moreover, you also can agree on the details with a handyman or set the time in the app.
With Porch's help, your customers can easily book reliable housekeeping services like application installation, home repair, electrical works, HVAC system installation, furniture assembly, moving, security installations, etc. In addition, you can select your preferred timing to get your job done from an expert handyman service team.
Top Features:
Easy to sign-up and login
Payment option
In-app chat with customers
GPS location
Advanced search options
Pricing:
Contact Porch for a pricing range
4. Thumbtack For Professional
Thumbtack is one of the best handyman mobile apps that makes it easy for you to search for local professionals to complete your to-do list for households. Thumbtack is a California-based on-demand handyman services company.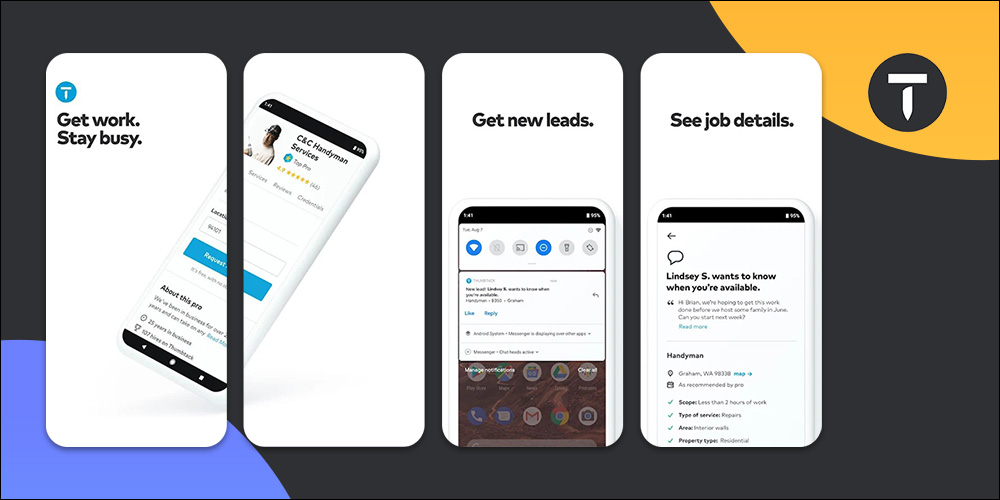 From photography to fitness to furniture assembly, this handy app provides you with a list of talented pros. So, whatever handyman services you need, whether home improvement, home decor, household repairs, furniture removal, security installations, or even house cleaning, Thumbtack is the app that books pros the best way.
Moreover, you can easily view the cost estimates, business information, check reviews and professionals' work before selecting the perfect one.

Top Features:
Easy access to Handyman

Can check reviews and ratings
Support online marketing strategies
Cost estimation
Pricing:
Please visit their website to know more about their pricing plans
5. TaskRabbit
TaskRabbit, one of the top-rated handyman mobile apps, allows you to hire skilled professionals to deal with housekeeping services and contactless errands.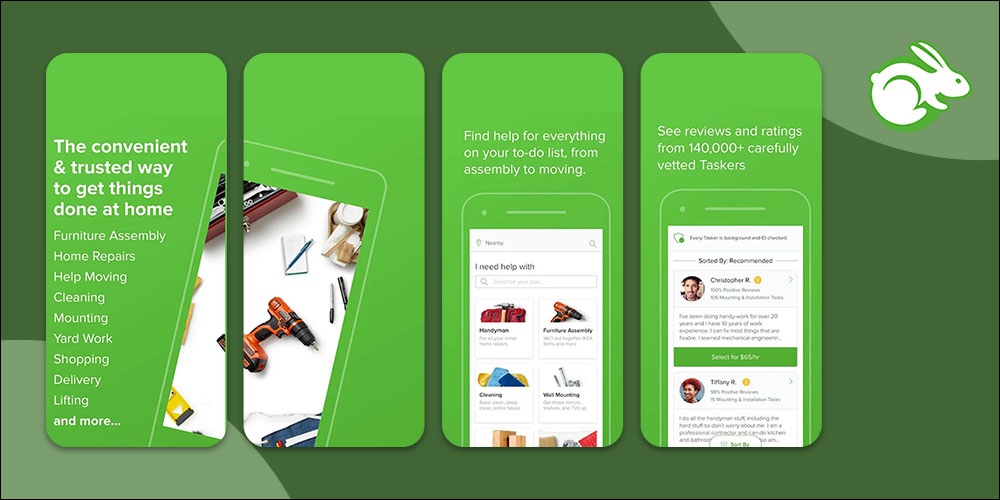 With this handyman app's help, service providers can easily manage everything related to handyman business operations ranging from simple cleaning to moving and deliveries. You just have to write the details about your job and leave everything to the taskers to complete the task.
This handy app is an ideal choice for the users as it allows them to stay connected with a network of professionals in real-time and pay directly to the pros using the app. Furniture assembly, moving, mounting, delivery, and shopping are the leading services of TaskRabbit.
Top Features:
Better customer service
Access trusted local professionals
Email, chat, and phone customer support
Chat with Taskers in the app
Make secure payments in the app
Pricing:
Taskrabbit has a $25 non-refundable registration fee
6. Angi
If you are looking for handymen for solely home service, Angi is for you. The handyman app focuses on home services like installing, cleaning, pest controls, and fixing applications. It is available on both iOS and Android.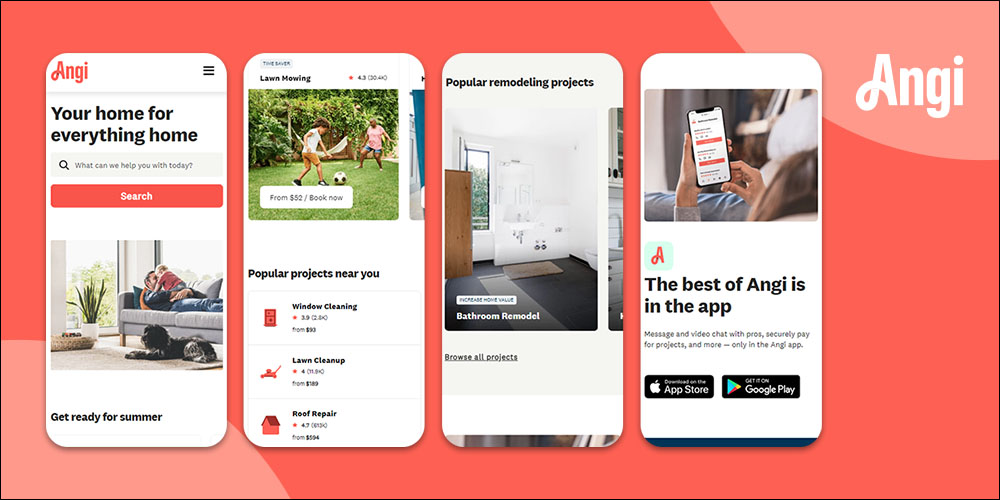 Angi provides you with professional handymen that are excellent in their field. It is a widely used app that allows you to book professionals in your local area and provide services at reasonable pricing.
Angi is an ideal choice for local pro for handyman business.
Top Features:
Efficient payment option
Get skilled professional
Compare cost estimate
Local options
Fair pricing
Pricing:
Angi Membership starts from $29.99
7. BrightNest
BrightNest shares the pool with the best handyman apps that provide you with a list of essential tips for you and your customers to make household things easier.
BrightNest is solely responsible for managing your household work ranging from simple cleaning tricks to interior design ideas. The interface is quite convenient and straightforward, which occupies an additional value to the app.
Top Features:
Reminder option
Customization
Task scheduling
Different deals
Quiz options
Pricing:
Please contact BrightNest to know about their pricing plans
8. The Family Handyman
It is amongst the best handyman apps that provide you and your customers with several decorating, building, and repair tips that help save time, money, and effort.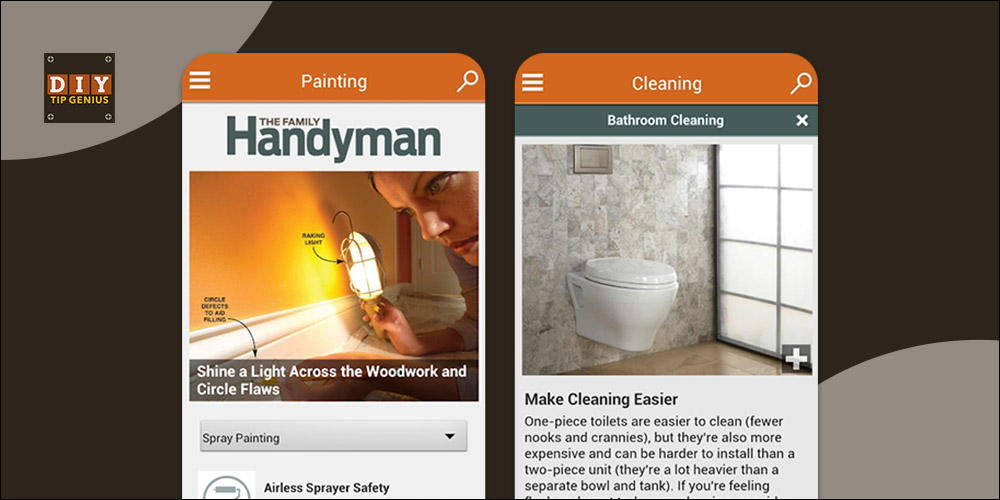 You can easily view DIY tips related to carpentry and cleaning, painting and pests, woodworking to washing windows for your home improvement project.
This family handyman magazine provides appropriate guidance on using the mobile app for performing the task to improve the house. The app is an ideal choice for someone planning to fix plumbing issues, add storage space, appliance repairs, and even building bookcases.
Top Features:
Multiple home improvement and decorating, building, and repair tips
User-friendly app
Professional secrets and ideas
How-to videos and step-by-step photography
Provides how-to instructions
Pricing:
The Family Handyman annual cover price is $32.92 and is currently published eight times yearly.
9. Mr.Right
Mr.Right is a handyman app that offers a range of home-related services under a single platform making your household work easier.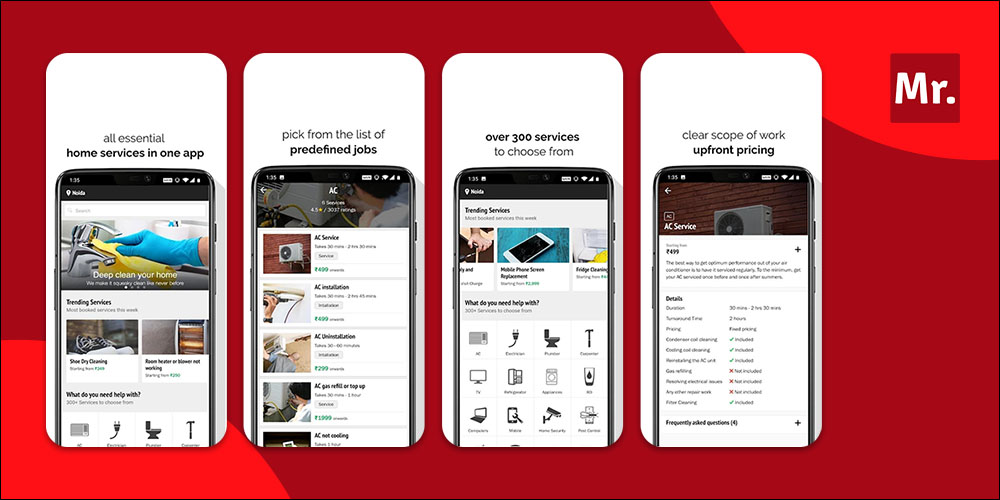 With this app's help, it becomes relatively easy for you to search for skilled and verified professionals to get quality work. You can easily find the pros from a specific service provider for carpenters, plumbers, electricians, and even dog trainers.
Pest control, car wash, CCTV installation, RO water purifier, mobile & computer repair, and other handyman services are provided by Mr.right. Available on both iOS and Android.
Top Features:
Reliable and verified professionals
Transparent pricing
Accurate invoicing
Hassle-free payment options
Customer satisfaction
Pricing:
Please contact Mr. Right to know about their pricing plans
10. Helpr
Helpr is one of the top-rated handyman apps that helps you complete your household job in a well-defined manner.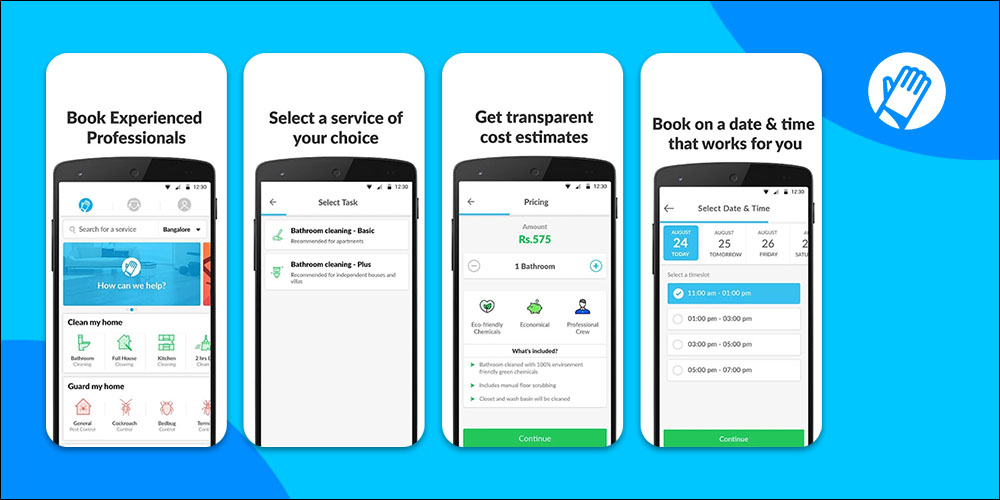 Using the Helpr app, you can easily book highly skilled and trained handymen professionals to perform your job and make your handyman business smooth. Home repairing, electronic services, home cleaning, and security are the services provided by Helpr.
With the Helpr app, you could make a booking for handyman services, track your booking status, and rate the solution provider making booking a delightful experience. You can download it from the Google play store and App store.
Top Features:
Transparent payment method
Manage multiple jobs
Advance payment
Expercient professionals
Instant availability of workers
Pricing:
Please contact Helpr to know about their pricing plans
11. TimeSaverz
Timesaverz is a handyman app that provides you with leading service providers for at-home services. Home cleaning, pest control, plumbing, house painting, sofa, bathroom window, and kitchen cleaning are the services provided by the Timesaverz.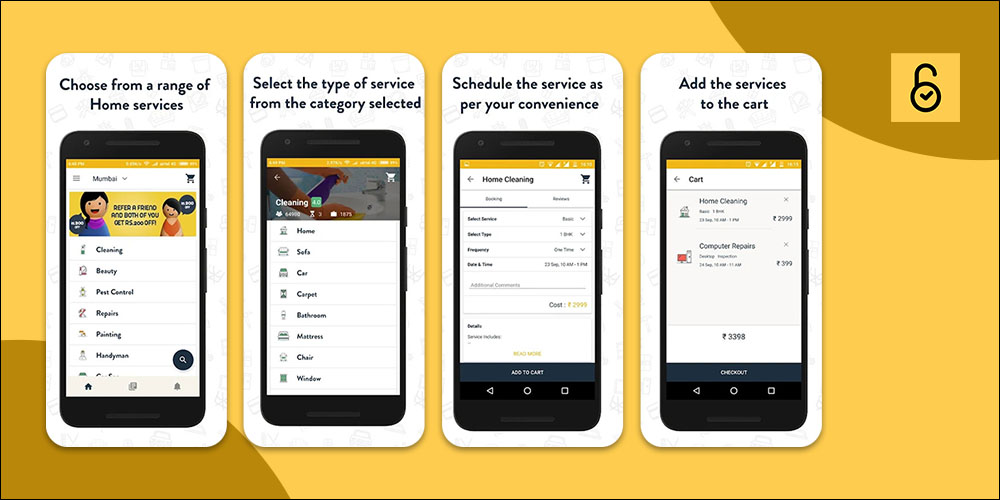 Timesaverz aims to create more me-time for busy individuals by organizing their home services requirements.
Top Features:
Schedule jobs
On-time quality service
Easy booking method
Advance payment options
Referral programs
Pricing:
Please contact Timesaverz to know about their pricing plans
12. QuickBooks
Owning a handyman business could be challenging and several times hard to keep up with, we understand that therefore we have added Quickbooks to the list. This app is one of the leading mobile accounting apps and helps you to manage payments.
It is a hassle-free way to manage finance anywhere by using your mobile device, laptop, or tablet. Quickbooks allows you to track expenses and generate invoices. Moreover, it will save time and decrease the burden of taxation.
Quickbooks are more suitable for well-established businesses or businesses that are having a hard time keeping track of finance.
Top Features:
Manage expenses
Available on Android, Web, and iOS
Create invoices
Generate financial reports
Reduce tax burden
Pricing:
Free to download
In-app subscription
13. GasBuddy
A handyman business is not a one place job, handymen have to travel from one place to another to do their tasks. And to travel and filling gas often is a quite good expense.
Therefore, we have added the Gasbuddy app which will help you to find the nearest gas station with the lowest prices. The app assists you to manage cost estimation and provide a referral program through which you can get free fuel.
It shows you real-time and reliable information about gas prices
Top Features:
Find the nearest gas station
Rewards and referral
Track driving habits
Report gas price
Cost estimation
Pricing:
So, we have seen the list of all the tools that help you and your customers deal with the home service solution in a well-defined way. All you need to take care of is to select the perfect one as per your handyman's business needs.
FieldCamp – Best Handyman Software
Try 14-Day Free Trial to schedule your Handymen. No Credit Card Details Required.
Still, have a few questions? Let's look at frequently asked questions.
FAQs
Handyman apps provide an effective solution by delivering the types of products or services to the customers. But, there are some weaknesses in the system that need to be updated to allow professionals an opportunity to make a selection whether to opt for the handyman service or not.
It usually depends on the country or state, what legal authorities are bound to a specific handyman. Most have a "Minor work exemption" or "Handyman exemption" that offers leniency for a particular situation and handyman tasks.
The payment process may take up to 5 business days for completing a task, but that too depends on the bank to proceed faster.
Here are four things to consider before selecting one from the best handyman apps:
It should assist in locating nearby Handyman
The app needs to have suitable modes of payment
It should allow bookings to be done in advance and schedule services for later
It should enable users to track service providers
Conclusion
With the help of interactive tools for managing and running your business, these best handyman apps play a significant role from invoice creation to time tracking.
We have seen a list of mobile applications, both google play store and the app store, making it easy for you to deal with the collection of household working scenarios. To create a job schedule for handymen and track their status, FieldCamp is the best and most technologically advanced solution for you. For an efficient experience, start your FREE trial today!